LassoMailer

- Campaigns
Interpreting Statistics
Knowing how many people actively engage with your emails is useful for helping you tune your email broadcasts to the thinking and needs of your subscribers.
At the simplest level, you want to know that your message has reached your subscribers.
Further to that, you want to know how many of them were interested enough to click through on a link to more information, to register, or to view a third party site if you're promoting this.
LassoMailer tracks views (when someone sees or opens your email in their inbox), and clicks (when someone clicks on a link inside your email).
The stats are presented in a drillable way:
Campaign Level Stats
At the first level of stats, almost immediately after you have sent to a list you will start to see the views and clicks being counted. This is the Summary per List view: How many people have viewed, and how many have clicked any link.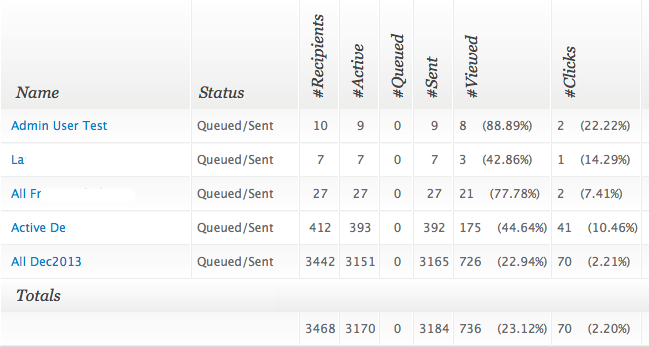 List Level Stats
At the second level that is accessed from Campaign stats view by clicking onto a list name you will see the Summary per Person in that List. This will show you how many times a person has viewed your email (if they leave it open on the desktop that can be quite a few times), and how many times they have clicked any links.

Detail Level Stats
The third view is accessed by clicking onto an individual address withina list within the campaign. You can view the number of views, and clicks mapped across time, and a list of the links that were clicked on.

---
Evaluating your campaign
There have been well publicized industry standards for email opening stats typically based around the industry, with just under 10% view rate being typical of banking and marketing industries, and over 22% view rate being more typical of computing related industries. The average click through rate is typically 2-3%. All of these stats will become void in the recent move by many countries to tighten opt-in controls and require users to confirm their subscritiption actively - even where a sales or service transaction has occurred. This means that average list size will drop as apathy to engage in the double opt-in takes its toll.
The positive effect is that the list will become 'more engaged'. You will have a higher view and click rate as you are only reaching those who are really engaged with the services and products you offer. The net result to your company or organization will be the same if not better in terms of sales or engagement as you can fine tune your messaging knowing your subscribers are already interested and just need a reason to engage.