Enigma Code Convertor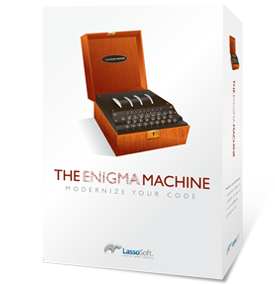 Introducing the Lasso Enigma Machine, a black-box full of fantastic tricks that reads your Lasso 8 code and translates it into pure Lasso 9 code that will delight your Lasso 9 server and give your applications and website the benefit of the most modern web code.
This standalone application is available for OSX only - but the code you convert will run on any Lasso 9.1 version. Point the code convertor to your source file, or file directory path, specify your output file, or output directory path, and let Enigma run through your system files.
The Enigma will provide clean Lasso 9 code wherever a translation or match is available. You will then have a fraction of the job left to convert pieces like your custom variables (or unreadible antiquated Lasso versions code) and test your finished code under Lasso 9's superior error reporting.
Stop putting off the inevitable. Turn the tide and win the war on upgrading with LassoSoft and The Enigma Machine as your allies!
Retail price $699 - excellent value for having this labour saving device do much of your upgrade work.
* Try our Free online version which will convert a limited number of lines as a sample!