Your License level depends on how you want to use Lasso
Lasso Licenses


Which version am I?

Evaluation
Upgrade
8.x to
Master
Upgrade
8.x to any
Perpetual
Master
Lasso 9
(Includes 8.6)
CLD
Lasso 9
(Includes 8.6)
Cloud
Lasso 9
New user

Development: 1 instance on 1 server

Commercial: 2 or more instances/servers

License per server

License per server

License per server

Any server; current CLD

Any server; one company

Install Support included
Pay as you Go (Leased license)
Own it outright (Perpetual license)
Future upgrade included
Same serial applies to more than one server/OS
Voting rights on roadmap/issues
Optional Developer listing - CLD ad
Auto-increment instances* as needed

All Prices are in Canadian Dollars
FREE
from $49/mo
from $799
from $49/mo
from $49/mo
from $50/mo
Note all paid options are eligible for Educational discount
*Auto-increment licenses must be able to phone-home to report instances used, this will automatically increment your monthly billing and will adjust this up and down according to instances used above any minimum: CLD has a minimum of 3. Cloud has a minimum of 2. Extra instances of CLD and Cloud are at $25 each
For hosting prices see the Hosting Membership schedule section of this site.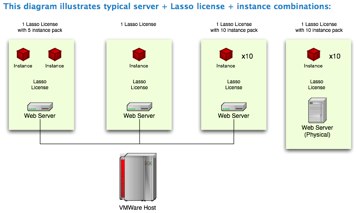 See the set-up explained, and find out more about how to determine if you need more Licenses, or just most Instances on your License.
And don't worry - it's easy to increase your levels to suit if you want to start conservatively.