Lasso 9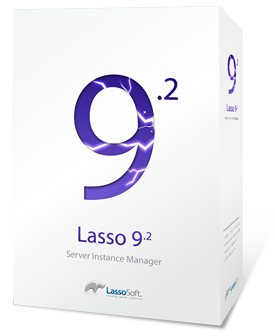 Security. Speed. Simplicity.
Our flagship product is all any developer needs to create dynamic, far-reaching applications that manage data flow between tables and the web.
Friendly enough for beginners, powerful enough for experts.
Features Lasso's legendary stability and functionality, wrapped in an elegant, logical syntax that continues to set the industry benchmark for consistency and efficiency.
Click for more details on Lasso 9 features, system requirements and license terms
Options
Choose your product type:
All prices in Canadian Dollars
Note: you need to be logged into a LassoSoft account to complete your purchases. If you already had a Lassosoft store account, just use the login at the top, or on the checkout page. If you need to create a new account click Login, and select Create a New Account.
Lasso Developer Conference
Our annual celebration of everything Lasso!
New product releases, seminars, networking and all-round community spirit.
Don't miss it! April/May 2012. Information coming soon.
Become A Certified Lasso Developer
Lasso Escrow
Guarantee Your Future
Secure Your Applications
Assurance that your Lasso applications can out-survive you, and even LassoSoft. Your clients can expect application longevity.
Read More